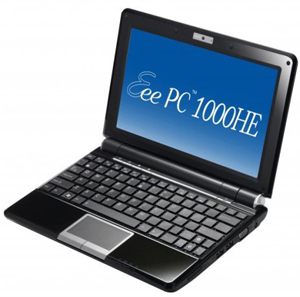 Asus EeePC 1000HE Netbook
Well a few weeks ago I got an Asus EeePC 1000HE netbook off of Amazon.com.  This came after a significant amount of research, comparison, and decision-making.  I also considered netbooks from HP, Acer, and Dell, although the Dell ones did not get much consideration.  Eventually it came down to the feel of it.   I went to Best Buy and tried them all out.  The Acer didn't match up spec-wise.  The HP just did not feel right.  The keyboard, with the keys touching each other was hard to type on, and the touchpad was horrendous.  The buttons were on either side of the pad itself and were very awkward to use.  The EeePC has a 'chicklet' keyboard which was easy to type on, and the touchpad worked well.  So I decided to pull the trigger on it.

The root of those comfort issues is the nature of the Netbook.  They are supposed to be small, portable, and not that powerful.  They are geared towards using the Internet and word-processing and not much more.  The ones I looked at had 10″ screens and all weighed under 3lbs.  This means that they cannot house full-sized keyboards.  Therefore, trying to type on a reduced-sized keyboard can be uncomfortable and frustrating unless the keyboard is well-designed.
The computer itself has an Intel Atom processor, the 280 model, running at 1.66GHz.  I took out the 1GB ram chip and put in a 2GB chip.  It has a 160GB 5400rpm hard drive, on a SATA connection. The wireless card is b/g/n and is pretty good.  It has a 1.3 megapixel camera integrated into the screen and stereo microphones.  It has no optical drive, but I was able to get an external DVD-RW drive for cheap.  The battery was advertised to last for 9.5 hours on a single charge, a major reason why I bought it.
The EeePC came from Amazon in literally a day. It also came with a custom neoprene case from Asus, which was a nice touch.  The power supply is smaller and lighter than any other computer power supply I have seen.  It is approx 1″ x 1″ x 2.5″.   The computer itself is a little heavy at the hinge, because of the large battery, but it is not too bad.
I set up a wireless-n network with a new Linksus router, which didn't take that long.  The EeePC connected instantly once I put in the passphrase.  That didn't last long because I had bigger plans for the computer.  I shut it down with the Windows 7 Release Candidate disk in one hand and a flash drive bearing Ubuntu Netbook Remix (UNR) in the other.  The goal was to have three partitions: 25GB for Windows, 15GB for UNR, and 120GB for data, which would be shared between the two.  Documents, pictures, and music would be accessed from both OSs but only stored in one place.
I did the formatting and partitioning from the Windows 7 install disk and went ahead and installed Windows 7.  All of the drivers installed themselves by default, and the wireless-n connection picked right up.   Windows 7 is basically the OS that Vista should have been.  It is user-friendly, looks great, and is not a resource hog.  Despite the slow processor and minimal RAM, I was able to run the full-featured version (including Aero effects) with no slow-down or stopping.
I then installed UNR on its own partition.  That took some getting used to, because I am largely unfamiliar with Linux.  Once I figured out the process, it was not too difficult.   Again, the drivers installed themselves and all of the hardware worked well.  I was able to connect to the network without issue.  I made the mistake of letting the automatic updater install a bunch of 'optional' software packages.  Once of these invariably caused an issue and crashed the OS.  Once I re-installed UNR and disabled the 'optional' features, I was able to start installing software.  Doing so from the command line took a lot of research and some getting used to.  Luckily UNR came with OpenOffice and FireFox.  I installed Pidgin and Skype, then decided to try to find a suitable media player.  I installed Banshee, Amarok, and Songbird.   Finally, I installed Gnome Do, a versatile shortcut launcher application, which I have grown to like.
Back in Windows 7, I installed Avast Anti-Virus, FireFox, iTunes, Skype, AIM, Office Professional 2007, Google Chrome, and a few other applications.  Unfortunately, one of these installations  caused an error within Windows Explorer.  Now, I cannot open a folder, My Computer, My Documents, or Right-Click on any item without Windows Explorer crashing.  It is very frustrating, and I think I'll have to do a fresh install of Windows 7 and go from there.
Despite the issues with Windows 7, I purchased and installed a Verizon Wireless USB Broadband Card.  The software installed fine on Windows 7 and the connection was relatively stable and relatively fast.  I didn't even need to install the software on UNR; I just put in the Verizon connection information into the UNR Network Manager, and the device connected almost instantly.  It was excellent.
I then used my external hard drive to transfer music (photos and documents will follow) to the 120GB 'data' partition.  Accessing the information (aside from not being able to open up any folders) was easy as normal in Windows 7.  I simply re-pointed the appropriate applications to the files they needed and all was well.  In UNR, i was able to do essentially the same thing, but realized I would have to 'mout' the partition first.  Once I did that, I was able to get right in to the data.  In the course of that process, I was able to narrow down the media player battle to a selection between Banshee and Songbird.  Banshee is a much lighter application, but Songbird runs well and has a lot of extra features that I really like.  We'll see what I decide on.
I have used the Netbook both at a desk, around the apartment, on my nightstand, at work, and in the car, and it has performed beautifully with the exception of the Windows Explorer issue.  Moving forward, I intend to try upgrading and failing that re-installing Windows 7 to resolve the issue.  Meanwhile, I'll happily keep working with UNR.
All told, the EeePC 1000HE cost me $392.63 from Amazon.  The RAM upgrade cost $25.84 and the external USB DVD-RW drive was $64.52, also from Amazon.  The purchase was definitely worth it, and I would recommend the EeePC 1000HE to anyone looking for a small platform for basic word-processing and web browsing, or as a supplement to another computer.  I would also recommend, however, that anyone interested in a Netbook be sure to try them out first, to determine which is most comfortable to use.  This is definitely an inexpensive ultraportable option for those who do not require resource-heavy applications.
Edit: The upgrade version of the Windows 7 installation fixed the issue, and preserved my programs and settings.  The EeePC is now fully functional and it is awesome!